The straits area including Kitakyushu and Shimonoseki is home to a variety of wonderful dining experiences! The Tanga Market, known as the Kitchen of Kitakyushu, features over 120 stores selling fresh seafood. The lively Karato Market offers sushi made using in-season seafood at reasonable prices. After your meal, enjoy strolling through shopping streets like the locals, or have fun going shopping at one of the shopping centers popular among families. Have your fill of local gourmet food at these markets featuring a wide variety of fresh seafood!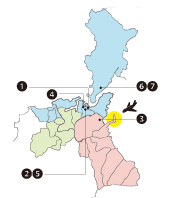 1

Tangai Ichiba

Gourmet
Shopping
Kitakyushu-shi Kokurakita-ku

Consists of approximately 120 stalls of fresh fruit and seafood.

2

Uomachi Gintengai

Gourmet
Shopping
Kitakyushu-shi Kokurakita-ku

Enjoy dining on famous local specialties at Uomachi Gintengai, the first shopping arcade in Japan! This 400 meter long shopping street is a favorite among the locals, and features yaki-udon restaurants and bakeries that attract long lines of customers every day. The street is home to Tsujiri Teahouse, a famous long-running teahouse that is known for its popular matcha green tea desserts. Customers can order matcha soft serve, matcha chiffon cake, and other items to go.

3

Sunnyside Mall Kokura

Shopping
Kitakyushu-shi Kokuraminami-ku

Sunnyside Mall Kokura is a large shopping mall located in front of the south entrance of JR Shimosone Station. The mall hosts over 100 stores, including a Matsumoto Kiyoshi drugstore and a Daiso 100-yen shop. The 3rd floor features an indoor amusement park, where visitors can play for 15 minutes for only 100 yen, making Sunnyside Mall Kokura a perfect place to take the kids while you do some shopping!

4

Riverwalk Kitakyushu

Gourmet
Shopping
Kitakyushu-shi Kokurakita-ku

Riverwalk Kitakyushu is a commercial facility that features a unique exterior design. The rooftop garden on the 5th floor offers great views of the majestic Kokura Castle up-close. Satoyama Shokai KOKURA, which just opened in June 2017, is a great place to pick up some souvenirs. The store offers a selection of local processed foods and seasonings from Fukuoka, as well as ingredients and tableware from all over Kyushu.

5

Uomachi Hikari Terrace

Gourmet
Kitakyushu-shi Kokurakita-ku

Uomachi Hikari Terrace opened in July 2017 in Uomachi Gintengai and serves as the "food center" of Kitakyushu. The building features a stylish exterior design, and is home to nine restaurants, including an Irish pub and a skewers restaurant. The rooftop terrace offers guests a place to an enjoy romantic barbecue while gazing at the sunset or the stars in the night sky.

6

Karato Ichiba

Gourmet
Shopping
Shimonoseki-shi

7

Kamon Wharf

Gourmet
Shopping
Shimonoseki-shi

Kamon Wharf is a shopping mall that neighbors Karato Market. 19 restaurants in the facility serve meals made using fresh seafood from the market. The wooden deck offers spectacular views of boats passing through the Kanmon Strait as well as the city of Moji on the opposite shore. Visitors can purchase process foods made from Fugu, a local specialty, and local sake brands. Be sure to stop by.