Let's hit the road from Kitakyushu Airport!
Let's go and find the attractions!
Kitakyushu – Full of Amazing Experiences

Kitakyushu area is a unique place full of ancient history, beautiful nature and industrial heritages of the modernization of Japanese industry.
Let us recommend you the following three courses: Seaside, Industrial Heritage and Scenic Nature.
Mojiko Retro / Karato Fish Market / Akama Shrine / Kawatana onsen (spa)
/ Kokura Castle / Chikuzen-Ashiya Umi-no-eki (seafood dining) / Seaside cycling
The Imperial Steel Works, Japan / Yahata Gyoza (juicy Chinese dumplings)
/ Kitakyushu Museum of Natural History & Human History / Wakita Onsen (spa)
/ Mutsugatake mountain/ Nogata-yaki Spaghetti (local dish) / Nogata Coal Memorial Museum

Hiraodai (Karst plateau) / Tenku Café / Shohachimangu (shrine) / Kakishita Onsen (spa)
/ Three-story Pagoda of Buzen Kokubunji (temple)
/ Honjo no Ohkusu (Great Camphor) / Umi Terrace Buzen (restaurant)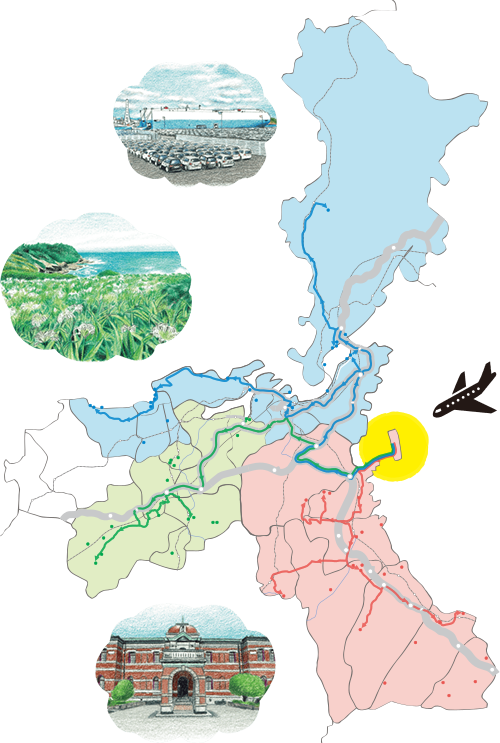 Easy access from Kitakyushu Airport!
Convenient to visit popular tourist spots

Easy to reach Beppu/Yufuin, one of the best famous spa resorts in Japan and Aso, dynamic landscape of mountains. You can start your journey as soon as you arrive at Kitakyushu Airport.
Estimated travel distance and time from Kitakyushu Airport

TO
Kokura
Shimonoseki
Fukuoka
Beppu
Aso
Yufuin
Distance
30km
50km
80km
100km
150km
110km
Time
(by car)
40min
50min
70min
100min
190min
100min
Expressway for a smooth and quick drive!
Higashi-Kyushu Expressway that stretches from north to south of eastern Kyushu was completed in 2016 and it is now connected to other major expressways in Kyushu making the entire Kyushu area more accessible.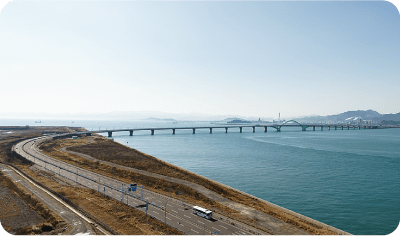 Car rental is a
good choice for your travel.
6 car rental companies are available just in front of the arrival gate at Kitakyushu Airport.
It gives you the freedom of movement, convenience and comfort.