How about going for a road trip on a sunny day? The area between Kitakyushu and Keichiku, located south from Kitakyshu, is a treasure trove of nature and traditional performing arts. The area offers a wide variety of attractions, from Karaage Road, the mecca for karaage lovers; a fisherman's cafeteria directly operated by the Fisheries Cooperative Association; and soba milling classes and limestone cave exploration in Hiraodai. Refresh yourself with a peaceful walk through the forests of Buzen featuring sweeping views of beautiful rice fields. In the fall, catch a glimpse of Kagura traditional performing arts, which is an important part of local countryside life for praying for an abundant harvest. Get away from the stress of everyday life, and relax among nature!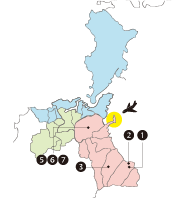 1

Karaage Hollywood Main Store

National Route 10, which connects Kitakyushu to Oita Prefecture, is also known by its nickname of "karaage road". The section of the road between Kanda and Koge is flanked by numerous famous karaage stores. Karaage Hollywood has 15 locations throughout Japan, and has its main store in Koge. The Karaage Hollywood main store offers a unique menu created in collaboration with the city of Koge.

3

Forest Therapy Buzen Base

Experts in forest medicine have demonstrated that Mt. Kubote, home to several training paths, is a forest therapy base that imparts a relaxing effect. Enjoy walking through the mountains and taking deep breaths of the fresh air. The base of the mountain is home to the Ishizumi Tanada terraced rice fields, a famous sight in the Kubote area.

4

Intangible Folk Cultural Property"Buzen Kagura"

Pictures
Experience
Yukuhashi-shi
Buzen-shi
Kanda-machi
Miyako-machi
Kouge-machi
Chikujo-machi

5

Hiraodai

Pictures
Experience
Kitakyushu-shi
Yukuhashi-shi
Kawara-machi
Kanda-machi
Miyako-machi

6

Hiraodai Countryside Park Soba milling lessons

Experience
Kitakyushu-shi Kokuraminami-ku

This classroom invites visitors to learn about the joys of soba milling in a relaxing environment. Visitors can eat soba that they have milled themselves. The park also features a pottery classroom, where visitors can try using pottery wheels and painting pottery. Visitors are recommended to make reservations by telephone in advance.

7

Hiraodai - Senbutsu Limestone Cave, Mejiro Limestone Cave, and Ojika Limestone Cave

Experience
Kitakyushu-shi Kokuraminami-ku

Hiraodai contains the Senbutsu Limestone Cave, which has been designated as a natural monument, the Mejiro Limestone Cave, which contains the largest monolith in Japan at 20 meters, and the Ojika Limestone Cave, which is also known as the "dinosaur trap". Several sections of these three caves can be explored while wearing normal everyday clothes. The air temperature inside the cave is 16 ˚C all year round, and the water temperature is 14 ˚C. Experience breathtaking beauty created by the forces of nature.