3 Courses that Start from Kitakyushu Airport
Your Magical Journey Starts
at the Kitakyushu Airport
Kitakyushu Airport is your best gateway when visiting Kyushu and Shimonoseki. The Kitakyushu Metropolitan Area that surrounds the airport is full of great tourist attractions where you can enjoy nature, history, and culture of the area. Here are three sightseeing courses that you can begin embarking right from the airport!
(The Kitakyushu Metropolitan Area consists of the following cities and towns: Kitakyushu-shi, Nogata-shi, Yukuhashi-shi, Buzen-shi, Nakama-shi, Miyawaka-shi, Ashiya-machi, Mizumaki-machi, Okagaki-machi, Onga-cho, Kotake-machi, Kurate-machi, Kawara-machi, Kanda-machi, Miyako-machi, Kouge-machi, Chikujo-machi)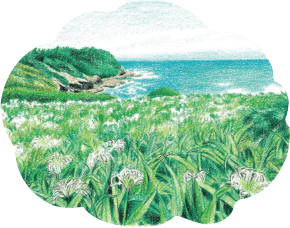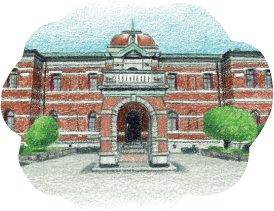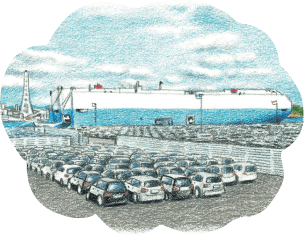 Let's go to the tourist attractions around!
The Kitakyushu Metropolitan Area is
Full of Amazing Tours to Take
The Kitakyushu Metropolitan Area is truly a unique land full of ancient history, blessed by the surrounding rich seas and mountains, and mines and industries that developed throughout the ages. In this pamphlet, we would like to introduce you to the Seaside Course where you journey from Kyushu to the Honshu Island, the Industrial Heritage Course that introduces you to the history and culture of this land's industries, and the Scenic Nature Course where you can enjoy beautiful sceneries that the local nature offers.

Seaside Course

Kitakyushu-shi(Moji-ku/Kokurakita-ku/Wakamatsu-ku/Tobata-ku)
/Shimonoseki-shi/Ashiya-Machi/Mizumaki-machi/Okagaki-machi/Onga-cho

Industrial Heritage Course

Kitakyushu-shi(Yahatahigashi-ku、Yahatanishi-ku)/Nogata-shi
Nakama-shi/Miyawaka-shi/Kotake-machi/Kurate-machi

Scenic Nature Course

Kitakyushu-shi(Kokuraminami-ku)/Yukuhashi-shi/Buzen-shi/
Kawara-machi/Kanda-machi/Miyako-machi/Kouge-machi/Chikujo-machi
If it is Kitakyushu Airport!
The Kitakyushu Metropolitan Area is
Full of Amazing Tours to Take
Within the radius of 150km from the Kitakyushu Airport, there are the two major cities of Kitakyushu and Fukuoka; Beppu and Yufuin, one of the best spa resorts in the country; the land of Aso that greets you with dynamic landscapes; and many more attractions close enough for day trips. Once you arrive at the Kitakyushu Airport, you can go and enjoy your travels on the same day as the arrival.
Travel distance and time from the airport
| | Kokura | Shimonoseki | Fukuoka | Beppu | Aso | Yufuin |
| --- | --- | --- | --- | --- | --- | --- |
| Distance | Approx.30km | Approx.50km | Approx.80km | Approx.100km | Approx.150km | Approx.110km |
| Time(by car) | about40min | about50min | about70min | about100min | about190min | about100min |
※Mileage and travel time of each area
The highway is convenient for traveling!
The Higashi-Kyushu Expressway
Now Takes You Even Further!
In 2016, the Higashi-Kyushu Expressway that stretches from north to south of eastern Kyushu was made fully accessible with no gaps, making travels from the airport even shorter. Now that it is connected to other major Kyushu expressways such as Oita Expressway and Kyushu Expressway, the entire Kyushu island has been made more accessible than ever.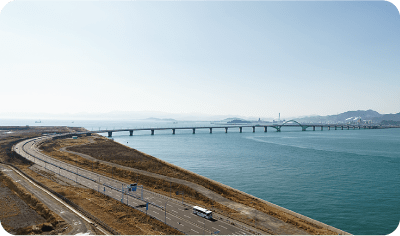 The World Heritage nominees are right around the corner!
Munakata-shi & Fukutsu-shi, Fukuoka Prefecture


Okinoshima Island
and Related Sites
in Munakata Region

The Okinoshima Island (Munakata Taisha Okitsu-Miya), belonging to the Munakata and the Fukutsu municipalities and located north of Kyushu, is a place of worship for many who call it "the god-dwelling island." It includes a total of 8 sites, including the Munataka Taisha Nakatsu-Miya which is the central location of worship, that are currently being submitted for Inscription on the World Heritage List. The decision will be made by the UNESCO World Heritage Committee in 2017.

Aim for
registration
in 2017!
Traveling
from Kitakyushu Airport
is convenient for rent-a-car
There are six rental car companies in Kitakyushu Airport,
so you can use it immediately after getting down.
Some shops are open until 23 o'clock so it is safe to arrive by late night flight.